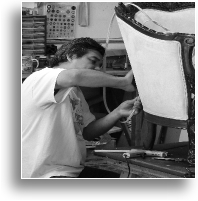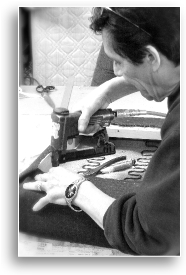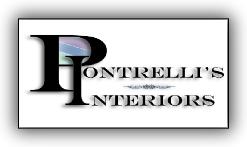 The process of having a piece of furniture upholstered is as follows:
1) You must determine whether or not the piece of furniture you have is worthy
of the investment...does it have a frame that is well-constructed?
2) You need to get an idea of what kind of fabric do you want. The processes of
choosing one fabric, from thousands, can be overwhelming. Here are some tips
for getting started:

a) Come with ideas. Bring along a throw pillow, magazine pages,
or photographs of the room where the furniture will be.

b) Consider what sort of fabric you want (canvas, tweed,chenille, velvet,
vinyl, leather) and the usability and/or durability the piece needs. You can
check our sample books out to see how the fabric looks in various lighting
in your home.

c) When you choose a fabric, we will come to your home to give you an exact
estimate on the cost.

d) If a price is agreed upon we will schedule a pick-up date.
Once we pick-up the piece, it is brought to our shop in Huntington Beach.
We strip the old fabric off, we check the frame and the springs for problems,
we then start cutting and sewing the material. The next step is to apply
the fabric to the piece, if the fabric is a matching pattern this takes a
keen eye for detail. We fill all cushions with new foam if needed, we add
trim like double welt or brass nails, we then touch up all the wood.
The like new piece is now ready for delivery!!!!!
18346 Gothard Street Huntington Beach, CA 92648